Father to Lost Child: We Never Abandoned You
Parents in a Hunan village continue searching for abducted children after years of government abuse and dashed hopes
By staff reporters Shangguan Jiaoming and Cao Haili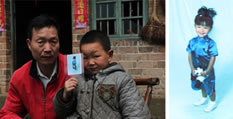 Almost a year passed before Yang Libing received heartbreaking news that his daughter had been snatched. But as soon as word reached the Shenzhen factory where he worked, Yang rushed home to Gaoping, in Hunan Province's Longhui County.
He demanded an explanation from family planning cadres who forcibly removed his oldest daughter, Yang Ling, from the home of her grandparents.
The cadres responded by assaulting Yang. "They beat me... until I could only crawl," he remembered while choking back tears during a recent interview with Caixin.
That was May 2005, at the height of what Gaoping residents call a "baby-grabbing boom" by officials working for the county family planning agency.
Between 2001 and 2005, more than 10 young children were taken by family planners based on the excuse that these families had violated China's one-child policy. The children as young as one year old were taken from homes, and families that failed to pay a "social compensation" fine never saw them again.
A Caixin investigation found sons and daughters from the poor, mountainous village of Gaoping were sent to an orphanage in the city of Shaoyang and later sold to agencies that arranged for adoptions to families overseas.
The cadres told Yang to give up, and that even 30,000 yuan would not be enough to bring his daughter back. "They told me not to cause any trouble for them," he said, "and they would allow me to have two" more children.
He soon learned that "our daughter had already been sent to the orphanage in Shaoyang."
Yang is still trying to determine exactly where the girl was sent after the orphanage, although there is strong evidence that she was adopted by a family in the United States.
The search has taken Tang and his relatives to officials and courts as well as the media, at home and abroad, with appeals for help. The search continues.
Banding Together
Soon after confronting family planning officials, Yang learned that his family's tragedy was not an isolated case. Many other local parents such as Zeng Youdong and Yuan Mingyou have been trying to find their sons and daughters for years.
In 2006, the parents banded together. One of the few parents who could read and write was put in charge of collecting documents. The parents sought officials who could help "in our county and in our prefecture, but to no avail," Yang said.
"We could only go to Changsha (the provincial capital) several times to visit relevant authorities and reporters."
Yang and the other parents prepared a petition, which was recorded with other official documents in Longhui. The county record says: "They submitted petitions everywhere, many times petitioning the provincial and prefecture-level people's congresses, as well as family planning birth and propaganda departments. They distorted the truth."
After these petitioning efforts failed to bear fruit, the parents raised enough money in March 2006 to travel to Beijing. They planned to appeal to authorities at the highest level of government.
But Shaoyang government officials, fearing the campaign would hurt chances for job promotions, blocked the parents. The Beijing trip was canceled.
Around the same time, two reporters from a Hong Kong newspaper arrived in Gaoping. Soon a story appeared in the English-language South China Morning Post with the headline: United in Grief, Farmers Lament Loss of Children 'Stolen' by Officials.
The report for the first time exposed the Gaoping family planning agency's abductions and the system of fines in the name of birth policy violations. But apparently few people noticed the report.
"We can't read (English). We didn't know what it said," Yuan Chaofu, a farmer whose baby was taken way, told Caixin, pointing to his own copy of the newspaper report.
Parents of the abducted children also petitioned China's mainland media, hoping someone would write about their plight. None did.
Shaoyang officials succeeded in preventing publication of an article written by a reporter for a Chinese-language newspaper in Hong Kong who had spoken with distraught parents, including Yang, in Gaoping.
The media blackout came shortly after Yang Jianxin was promoted to vice chairman of the Shaoyang Prefecture People's Political Consultative Conference from his former job of Community Party secretary of Longhui County. Caixin learned that a provincial-level government official in Hunan used a variety of means to block further media investigations.
Time passed, and eventually in spring 2008 news of the abductions reached reporters in Beijing. But the mainland reporters also failed to get around Hunan authorities, who prevented one media outlet in the nation's capital from putting the story in print.
Overseas Interest
Meanwhile, a media outlet in the Netherlands was showing interest in the case. On March 11, 2008, Dutch television station EO Network reported that family planning cadres in Gaoping had abducted children.
Yang, his wife and two other parents were interviewed for the story, which was of interest to Dutch government and adoption agency officials who suspected some children may have been adopted in the Netherlands by parents who thought they had been abandoned in China.
The program stirred intense discussion in the Netherlands. It embroiled the country's largest adoption agencies, foster parents, child rights activists and members of parliament. The nation's justice ministry was then pressured to launch an investigation.
The Netherlands' Ministry of Justice sent a delegation to China in May 2008 for a meeting with the China Center for Adoption Affairs (CCAA), an office under the Ministry of Civil Affairs.
According to a justice ministry report submitted to the Dutch parliament in September 2008, the talks were designed to "clarify whether the situation disclosed by EO Network was or was not a structural problem" and "whether or not China's international adoption practices comply with the Hague adoption convention."
That convention is formally called the Convention on Protection of Children and Cooperation in Respect of Intercountry Adoption, and it took effect in China in 2006. The convention is based on the principles of "preference for domestic adoption" and "ensuring a child's interest" in international adoptions. It also says parents of "abandoned" children must have "voluntarily" given them up.
Chinese officials told the justice ministry that "almost all" children given up for adoption in China had been abandoned by parents. They also insisted that the Chinese government would never remove children from homes on behalf of the one-child policy.
CCAA officials said the TV report was inaccurate because the Gaoping parents featured in the story had illegally adopted 12 babies although, under China's Adoption Law, they were unqualified to adopt. The officials also said none of the town's children had been adopted by Dutch families.
The Dutch delegation concluded that China was following the Hague convention, and that Chinese authorities were taking all necessary measures to protect adopted children. They found no reason to re-evaluate existing cooperation agreements between the Netherlands and China.
But the report did not satisfy Ina Hut, who at the time was head of the largest Dutch adoption organization Wereldkinderen.
"This was a false report," Hart told Caixin, who said fears of damaging relations with China may have prevented the Dutch delegation from trying harder to find the truth.
In July 2008, Hart flew to Beijing for interviews with CCAA officials, who repeated the arguments they had given to the Dutch justice ministry delegation. They also warned her not to cause any trouble.
"Just do your work," Hart recalls being told.
Hart considered sto
ppi
ng Wereldkinderen's Chinese adoption services, but the justice ministry – which regulates agencies including Wereldkinderen – opposed the plan.
Dutch media reports said justice ministry officials threatened to revoke the agency's license if Hart continued investigating affairs in China. The threat prompted Hart to resign in September 2009.
Where Are the Kids?
Back in Gaoping, local officials claimed parents who were looking for children had abandoned their girls because they wanted boys and had refused to pay fines.
Girls have historically been abandoned in China due to a preference for male children. But this argument fell flat in Gaoping, where parents had exhausted their resources in search of daughters missing for up to six years.
Zeng Youdong, a Gaoping farmer, makes no secret of his preference for male children but insists he never thought about abandoning his abducted daughter. "She is our daughter," he said. "It isn't that we can't afford to feed her."
Jiang Dewei, president of the Shaoyang orphanage, said of the 13 children turned over by Gaoping family planning and civil affairs offices, eight were adopted by American families. He said Yang's daughter was among them.
On September 20, 2009, a report in the Los Angeles Times on abandoned babies in China shocked many Americans. The report entitled Some Chinese Parents Say Their Babies Were Stolen for Adoption followed the same story line that Hong Kong and Dutch reporters had previously told, and that the Beijing media was not allowed to publish.
A reader of the Times story contacted Yang and told him his daughter had been adopted by an American family. Zeng and Yuan were similarly told that American families had adopted their daughters.
Yang said he still hopes to be reunited with his daughter. If that happens, he said he'll tell her, "Your Mom and Dad never stopped looking for you. We never abandoned you."