He's found seven missing Chinese children, but not his own
Guo Gangtang has covered 400,000 kilometers across China in 13 years, but his mission to find his son continues
By
Nancy Zhang
10 January, 2011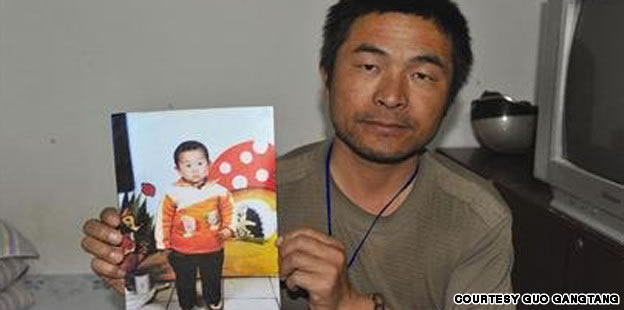 Guo Gangtang holds a photo of the son he has been searching for since 1997.

For 13 years Guo Gangtang, a Shandong farmer, has been trying to find his missing son in the world's most populous nation.

When Guo Zhong, aged two, disappeared one hot September day in 1997, his father started on a desperate search that reached all but the most far-flung provinces.
Guo has covered 400,000 dusty kilometers on an old motorbike in his quest, selling painted gourds made by his wife to survive.

Guo Gangtang's quest across China, looking for his son and other missing children, has caught the attention of the media.On this journey, Guo found seven lost children for other families. But his own son is still missing.

His stubbornness and courage has captured the Chinese media and resonated with families across the nation.
"The reason I do this is very simple: I felt so guilty I didn't look after my child," says Guo. "When I find the kids of other people, their happiness is like a miracle. But I also think, why can't a miracle happen to me?"

A frustrating search
The short sequence of events leading up to the disappearance of Guo's son has come to define his life; he has replayed them over and over.
On September 21, his wife was cooking while Guo Zhong was playing outside. A strange woman approached him and they talked for a few minutes. She took out a handkerchief and wiped his face. Soon after, Guo Zhong disappeared.
More on CNNGo: Giving Shanghai's migrant children a better start
Feeling that his son had been taken out of Shandong, Guo scoured newspapers for clues, and wrote thousands of letters to police bureaus, relatives, friends and friends of friends all over China. When he received replies with promising clues, he set off for that area on his motorbike, surviving on just RMB 11 a day.

But in all these years, good evidence has been scarce.

I have a feeling that if I carry on, one day he will come to find me ... Even if it's not in the next couple of years, even if it's after he gets married, it's not too late.— Guo Gangtang

Some of China's missing children are known to have been kidnapped and sold to childless couples, and Guo believes his son was one of them.
Male offspring are particularly valuable as Chinese culture puts the burden of looking after parents on sons.
Guo imagines his child is now living in some other family, with some other identity.
"The welfare system is the biggest link in the chain of why this happens. I think that family that bought him is really ignorant -- but I just want to talk to them, discuss what to do," says Guo.


Not a unique story
Unfortunately, Guo's story is far from unique.
Baby Come Home (宝贝回家) is an Internet-based charity for parents of missing kids. Guo was one of the early parents to join it in 2007.
"Actually, Guo is not even the most memorable case we've seen," says Zhang Baoyan, founder of the charity. "Some parents have been searching for 20 years, some even 50 years. Others have spent millions of RMB. I've heard so many moving stories."
Zhang, who has not lost a child but feels deeply about this issue, says that these parents seem "exhausted but persistent nevertheless. They deserve our pity and admiration at the same time."
Members of Baby Come Home (宝贝回家) try to raise awareness of kidnappings in China.The organization encourages its members to broaden their help to other kids as well as their own when they search, turning each parent into a volunteer for the cause.
Under the guidance of the charity, Guo has helped raise awareness all over the country.
He continues to search for his son, but he collects material on all missing children along the way.
This work, and the many small acts of kindness from strangers who offered him a free meal or phone call, has helped dull the anger and pain over the years.
"All I ask is that local police do not allow kids with unclear origins to be legally registered in the area -- the kidnappings would not happen without the corruption that lets them register for a hukou later," Guo says.
Though Guo Zhong is still missing, Guo Gangtang is confident that he is out there, carrying memories of his real origins.
"I have a feeling that if I carry on, one day he will come to find me. Maybe he will watch TV or go online and read about me. It may jolt some memory or something that doesn't fit with the life he knows. Even if it's not in the next couple of years, even if it's after he gets married, it's not too late."
By
Nancy Zhang
10 January, 2011
Source: CNN Travel News